Providing high quality products from leading UK and European manufacturers. All our products are manufactured to the highest standards and comply with all current UK and European standards. Our staff are friendly and efficient and have over 50 years combined experience in the plastics pipe industry.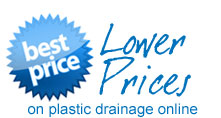 Welcome to the Drainage Shop
The Drainage Shop is a UK based drainage provider that specialises in drainage products. Our portfolio of drainage includes drainage pipes and fittings, drainage channels, and land drainage pipes and fittings to name a few. However, alongside our drainage range we also offer a select few gas products which includes gas pipes, compression gas fittings and gas ducting which sit nicely with the rest of our portfolio.

Drainage Supplies at the Drainage Shop
Alongside the drainage products previously mentioned, at the Drainage Shop we also sell a wide range of soil and vent drainage supplies including soil pipes and fittings that are used to transport wastewater to your drainage system from a kitchen or bathroom. And water products such as MDPE water pipes, MDPE compression fittings, and roof and balcony outlets designed to help carry portable water in a secure and clean way.

Shop Drainage Online
At the Drainage Shop we are one of the biggest UK plastic drainage suppliers and have been supplying drainage online for over 50 years combined. We source products from leading UK and European manufacturers to ensure we deliver the best products possible at the best prices. Along with this, it is essential to us all here at the Drainage Shop that we supply drainage of the highest standards, therefore we guarantee all products comply with all current UK and European standards.